The Credit Festival features the culmination of six awards programmes, 13 separate conferences, 80 sessions and more than 200 speakers, which will unite senior professionals across multiple industries including financial services, utilities, telecoms and the public sector.
Tom Blacksell, managing director of go-to-market and solutions, UKI, at Experian, said: "We're excited to announce this partnership with Credit Strategy on the Credit Festival. During a year in which the industry has faced such challenging times, and potential isolation among staff, the festival's digital conferences and awards will unite credit professionals across multiple sectors.
"We're happy to play a fundamental role in sharing best practice on credit risk, digital transformation, Open Banking, vulnerability, collections and so much more. The sharing of challenges and solutions in this time of transformation is vital."
The Credit Festival comprises four themed weeks, and the events held within them, which can be seen below. Each week groups together events where audiences will have similar interests, be able to share similar experiences, and where members can network more effectively with their peers.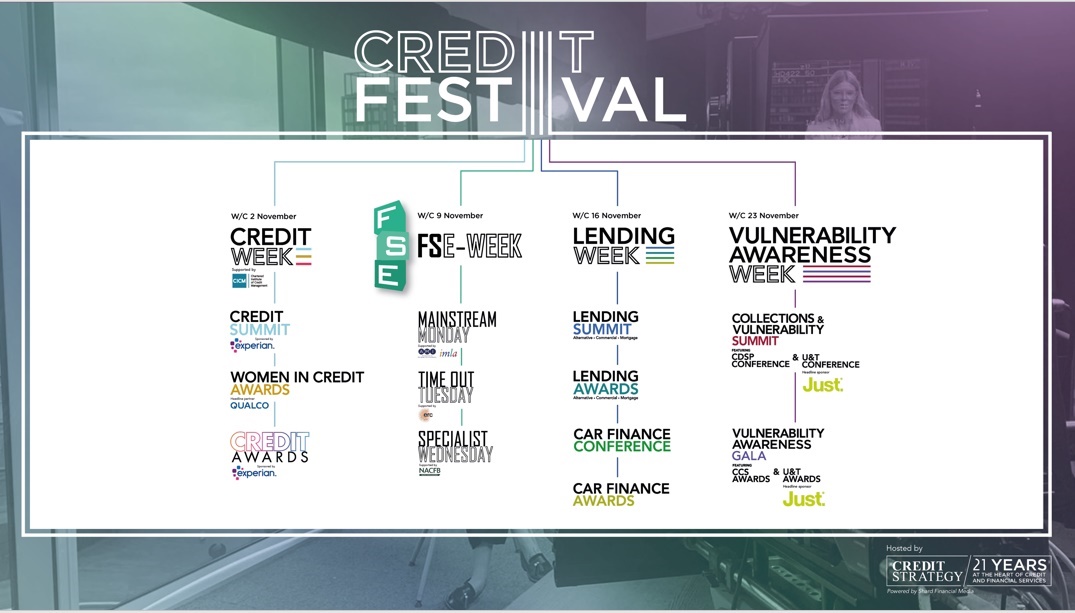 Luke Broadhurst, chief executive of Shard Financial Media, Credit Strategy's parent company, said: "We are delighted to be working with our partners at Experian. They are showing support for a festival that will bring a mass audience together, for an entire month with back-to-back events, at a time where isolation among colleagues and clients is a real issue.
"I've spoken before about my pride in how our small media business unites large industries and professions. And this is needed more than ever before.
"The festival is the only one of its kind, connecting our members from multiple sectors, while providing insight and rewarding outstanding achievement – in a tough year – through interactive broadcasts with TV production values."
Individuals can purchase a pass for the Credit Festival and all its events for £800; premium members get a 25% discount.