Thu Jun 20, 2019

08:15 - 16:45
The Nottingham Belfry Hotel
The Car Finance Conference returns for its 4th year
The industry is facing a time of unprecedented uncertainty, factors such as Brexit, intense regulatory scrutiny, manufacturing issues and consumer confidence have us asking the tough questions. The Car Finance Conference is here to guide you and your business through the next 18 months.
Leading from the front
Providing insight from those at the coal face in the UK and Europe's biggest lenders, brokers and car dealers, Credit Strategy's Car Finance Conference has fast become the Europe's 'premier car finance event'.
For any enquiries please contact us:
T: 020 7940 4835
M: enquiries@creditstrategy.co.uk
Audience
Connect with full car finance eco-system of the brokers, dealers, and lenders across the entire market.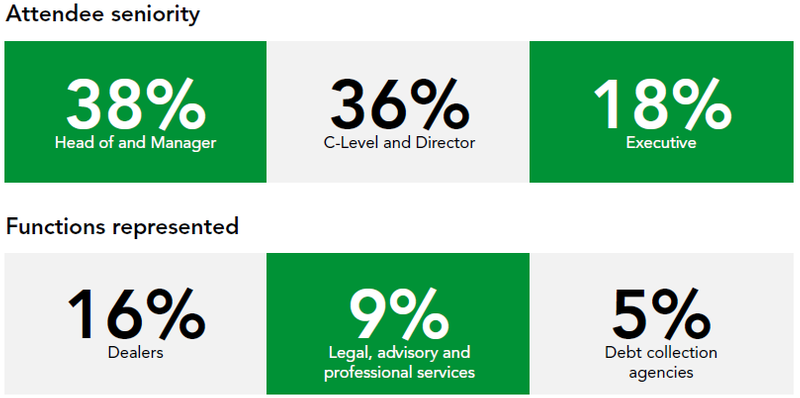 Other attendees include:
Regulators
Government
Credit reference agencies
Trade associations
Technology providers
Recruitment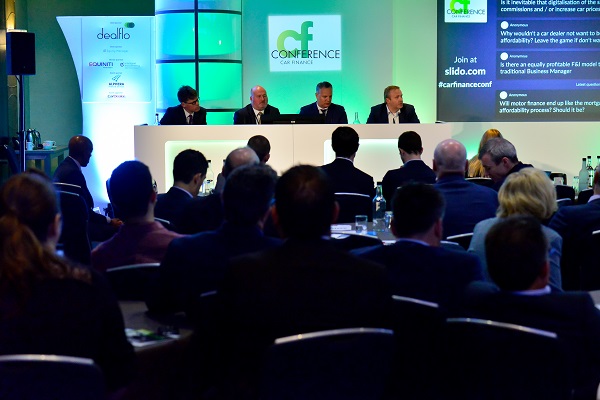 "Good content, well delivered.
Informative and when appropriate, fun!"
Head of Compliance
DSG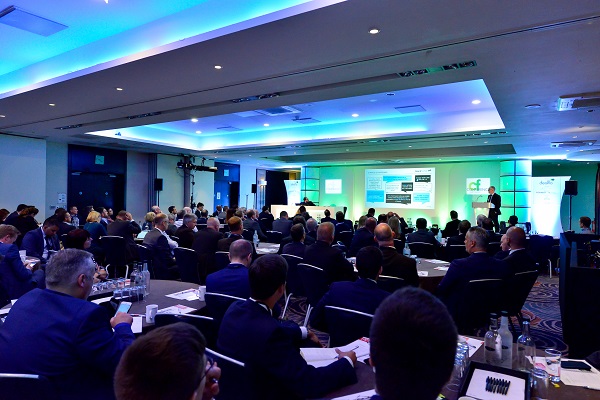 "Lots of people from across the industry to network with"
Credit Risk Manager
Zopa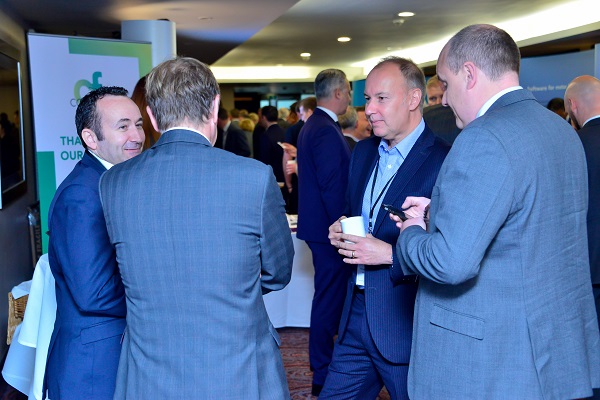 "One of the most interactive conferences I've attended
with great audience participation"
Director of Customer Propositions
Black Horse
Frequently asked questions
WHEN CAN I BOOK MY PLACE?
You can book your place for the 2019 Car Finance Conference here.
---
HOW TO ASSIGN CONTACTS AND WHEN?
Login via the Credit Strategy website by clicking here followed by your username and password. Please assign your contacts at least one month prior to the event.
---
HOW MUCH DOES IT COST TO ATTEND?
---
WHAT TIME DOES THE EVENT START AND END?
The event starts at 8.30am and will end at 4.40pm (subject to change).
---
WHEN DOES THE EVENT TAKE PLACE?
Thursday 20 June 2019
---
WHAT ACCOMMODATION IS AVAILABLE?
To organise accommodation at the venue please contact our Events team on 020 7940 4845
---
WHAT WOULD YOU LIKE TO DO NEXT?
Find out about sponsoring the Car Finance Conferece.
---
WHAT ARE CREDIT STRATEGY'S MEMBERSHIP OPTIONS?
You can register for free here or take advantage of our Premium Membership to receive discounted conferences passes, exclusive access to premium content on our website and a hard copy of each new magazine we print.
If you have any questions please feel free to contact membership@creditstrategy.co.uk
---
HOW CAN I BECOME A SPEAKER AT AN EVENT?
Find out about speaking opportunities by contacting our Conference Production team on 020 7940 4820
---
WHEN WILL I RECEIVE MY SPEAKER PACK AND INFORMATION?
We send out all speaker packs and information 4 weeks prior to the event.
---
WHAT OTHER EVENTS DO CREDIT STRATEGY HOST?
To find out about all Credit Strategy events please click here.
---
WHERE WILL THE EVENT TAKE PLACE?
Mellors Way
Nottingham
NG8 5PY
The venue is ideally located at the entrance to Nottingham, just a mile from J26 of the M1, 15 miles from East Midlands Airport and just 5 miles from the city centre.
The hotel has 250 car parking spaces, an electric car charging point and free internet access to all guests.
Recognising success in car finance

Taking place straight after Credit Strategy's acclaimed Car Finance Conference, the awards present the UK's best opportunity for dealers, lenders and brokers to get together and celebrate a year of hard work.
The awards are independently judged and culminate in a prestigious black tie dinner and ceremony at The Notthingham Belfry Hotel - the same venue as the conference.
Book your car finance conference
Credit Strategy's Car Finance Conference is the only conference focused entirely on UK consumer motor finance, and the single most comprehensive gathering of lenders and intermediaries in that market. Can you afford to miss out?
Exclusive rates
Our exclusive rates are reserved for Credit Strategy premium members only. If you are a member, make sure you're logged in show your member rate. Want to know more about membership and the many benefits? Simply click here. Prices increase incrementally the first day of each month
---
Have a question?

Do you want to know more about the conference, the agenda, or wish to book via telephone? Simply call:

Sukhjit Bhutta

Sales Executive

E: SBhutta@shardfinancialmedia.com

T: 020 7940 4827
Become a premium members and get 25% off on conferences. Click here to learn more